Own a timeshare that you're not using?
Have you thought about renting it to an individual? With our expansive network of timeshare professionals, we can assist in finding a qualified renter for your timeshare.
Disney Vacation Club Rental Partnership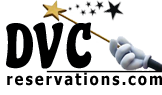 We are proud to have partnered with a respected name in DVC rentals, to help serve our rental clients.
Why rent with DVC Reservations?  Protection for renters is their focus: The company is U.S. based and bonded. The standard service includes all hours for making rentals, changes, magical express, meal plan additions and renter support and questions. The only thing you need to do is sit back and collect earnings, or simply make a reservation request.
Services for both listing and renting DVC points
The only service that allows you control over your rate per point
Check DVC Reservation Inventory At A Glance
All DVC points that are more than 45 days from expiration are accepted
List any use year or resort
Guaranteed Sales for over 100 Points with expiration greater than 7 months
Fill in form below to get started!
Looking for a more affordable vacation?
Renting a timeshare from another owner is a great alternative to booking hotel rooms. When you rent a timeshare, you will see significant discounts compared to resort, hotel, and travel agency pricing. Also, most timeshare units offer more than your typical hotel rooms: multi-bedroom villas, kitchens, living rooms, private balconies, and more.